Korncirklers geometri og matematik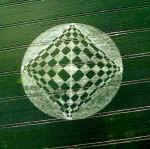 1. Klassiske formationsgåder - eksemplaret Stonehenge:
3. Specific crop-circles' forms and the shape of the local Universe
4. Shifting our criteria for judging geometry and widening our margin of error
5. Ground-construction as evidence for origin
6. A mystical crop-circle's geometrical lay details
7. Construction myths and "the Moire"
8. Korncirkler og det gyldne snit, det gyldne rektangel og den gyldne spiral

9. Korncirkelgeometri - udvalgte artikler
10. "Crop Circles - The Hidden Form", boganmeldelse
11. "Crooked Soley - a crop circle revelation", boganmeldelse
e-mail: jonah102@gmail.com